Women's History Month Luncheon Admission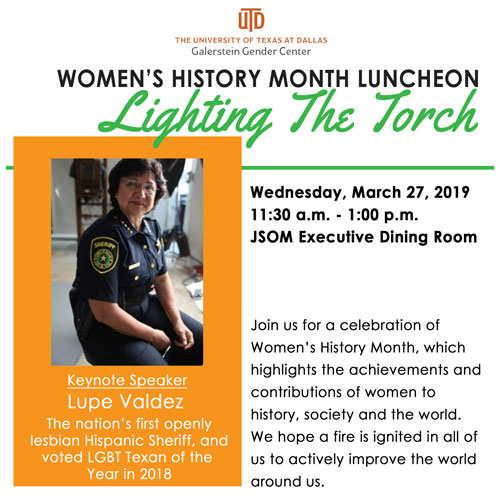 Description
Join us for a celebration of Women's History Month, which highlights the achievements and contributions of women to history, society, and the world. We hope a fire is ignited in all of us to actively improve the world around us. Our keynote speaker is Lupe Valdez, the nation's first openly lesbian Hispanic sheriff, and voted LGBT+ Texan of the Year in 2018.
Agenda
11:30am-12:00pm: Serving lunch and socializing
12:00pm-12:20pm: Speaker Lupe Valdez
12:20pm-12:40pm: Question & Answer
12:40pm-1:00pm: Photo opportunity with Lupe Valdez
Menu
Grilled lemon-oregano chicken
Salmon cakes with cucumber sauce
Tabbouleh, baba ghanoush, and hummus, served with pita triangles
Greek salad with lemon dill vinaigrette
House-made baklava
*Served buffet style*
Parking/Directions
A separate confirmation email with be sent with parking information and directions. Parking cost is included with registration.
Refund Policy
Full refund up until Friday March 22nd, after March 22nd no refunds will be issued.