2015 Diversity Awards Registration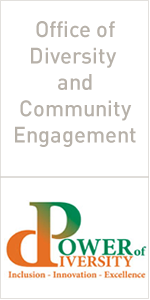 April 23, 2015 | 4:00 p.m. Ceremony | 5:30 p.m. Soirée

The 2015 Diversity Awards Ceremony will be a particularly significant event as the Office of Diversity and Community Engagement (ODCE) will celebrate its 6th anniversary. The Diversity Awards ceremony is the culmination of ODCE's many programs and initiatives throughout the year. This year, the Diversity Awards will bring together 300 guests in the UT Dallas Alexander Clark Center. The ceremony will include:

• A special performance by the winner of the UT Dallas Slam Poetry Competition.

• A testimonial by a UT Dallas Diversity Retention Scholarship Recipient.

• Recognition of the 2015 UT Dallas Champions of Diversity: awards will recognize faculty, staff, students, community and corporate awardees.